Blog - Proverbs 2:10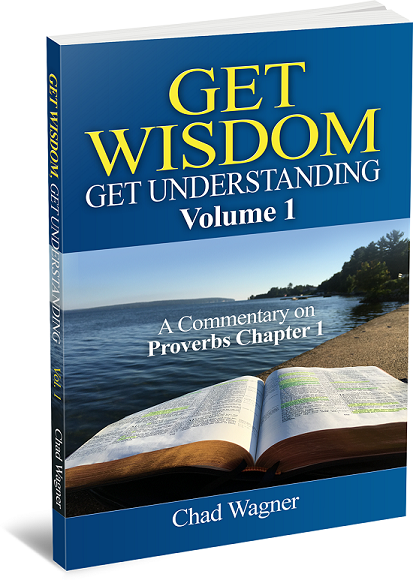 If you like this blog, then you will like
Get Wisdom, Get Understanding
which is Pastor Wagner's commentary on Proverbs chapter 1 which is available on Amazon in paperback or Kindle. Find out more
here
. For all the blogs in this series, click here:
Proverbs Commentary
.
Proverbs 2:10
"When wisdom entereth into thine heart, and knowledge is pleasant unto thy soul;" (Pro 2:10)
---
In the first nine verses of Proverbs chapter two, Solomon gave the conditions for acquiring understanding, knowledge, and wisdom from the LORD. In the remainder of the chapter, Solomon explains to his son some of the practical benefits of possessing wisdom, most notably its temporal saving and preserving influence in the lives of those who embrace it. Though there are innumerable benefits to getting wisdom, a Christian's primary motivation for obtaining it should not be the temporal advantages it affords, but rather its intrinsic virtue. The LORD first instructs His children to "get wisdom, get understanding" (Pro 4:5) before He reveals the earthly gain it provides: "she shall preserve thee . . . and she shall keep thee" (Pro 4:6). A man should desire wisdom, first and foremost, for the sake of having it because it "is the
principal
(
first or highest in rank or importance
- OED) thing" (Pro 4:7), not merely because "she shall promote thee [and] . . . bring thee to honour [and] . . . give to thine head an ornament of grace [and] a crown of glory" (Pro 4:8-9).
When wisdom entereth into thine heart
. This statement indirectly reveals that the natural state of man's heart is one that is devoid of wisdom; for, if wisdom is promised to enter into the heart of man, it is evident that it does not currently reside there. Wisdom isn't found innately in a man from his youth, but rather "foolishness is bound in the heart of a child" and must be driven out with the rod of correction (Pro 22:15) before wisdom has a hope of replacing it. By nature, "the heart is deceitful above all things, and desperately wicked" (Jer 17:9) and "is little worth" (Pro 10:20). Jesus Christ described it thus:
Mar 7:21-23 - For from within, out of the heart of men, proceed evil thoughts, adulteries, fornications, murders, 22 Thefts, covetousness, wickedness, deceit, lasciviousness, an evil eye, blasphemy, pride, foolishness: 23 All these evil things come from within, and defile the man.
Given this sordid description, it was altogether reasonable for Solomon to later write, "he that trusteth in his own heart is a fool" (Pro 28:26). The LORD's words in Pro 2:10 are not directed toward a man with a stony, unregenerate, wicked heart, but rather toward a man that has "appl[ied] [his] heart to understanding" (Pro 2:2). Wisdom can enter such a heart because God had previously performed a spiritual heart transplant within the man, regenerating him and enabling him to seek and understand the wisdom which is from above.
Eze 36:26-28 - A new heart also will I give you, and a new spirit will I put within you: and I will take away the stony heart out of your flesh, and I will give you an heart of flesh. 27 And I will put my spirit within you, and cause you to walk in my statutes, and ye shall keep my judgments, and do them. 28 And ye shall dwell in the land that I gave to your fathers; and ye shall be my people, and I will be your God.
Tit 3:5 - Not by works of righteousness which we have done, but according to his mercy he saved us, by the washing of regeneration, and renewing of the Holy Ghost;
And knowledge is pleasant unto thy soul
. Knowledge is not appealing to those who have not a heart prepared to receive it. Rather than embracing it, "fools hate knowledge" (Pro 1:22) and "despise wisdom and instruction" (Pro 1:7). When the heart has been prepared by God through regeneration to receive His word, instead of being irritating, knowledge becomes
pleasant
(
having the quality of giving pleasure; agreeable to the mind, feelings, or senses; such as one likes
- OED). To the child of God with a renewed heart, the knowledge of God gives pleasure
unto his soul
which is the very essence of his being. While knowledge is pleasing to his inward man, at times it is not so to his flesh, for "he that increaseth knowledge increaseth sorrow" (Ecc 1:18). Though the truth may be hard to receive, and often will cost a man dearly, it will free his spirit from the bondage of lies which enslave him. As Jesus said to those who believed on Him: "if ye continue in my word, then are ye my disciples indeed; 32 And ye shall know the truth, and
the truth shall make you free
" (Joh 8:31-32). Jesus' words dovetail nicely with Solomon's; for when a Christian continues in the word of God, receiving and hiding it within him, crying after it, and seeking it as silver, he shall find the knowledge of God (Pro 2:1-5); and when he does, he shall know the truth which will make him free from the way of the evil man (Pro 2:12) and from the strange woman whose ways incline unto death (Pro 2:16-18).
---
Subscribe to Pastor Wagner's Blog
---