Blog - Proverbs 1:27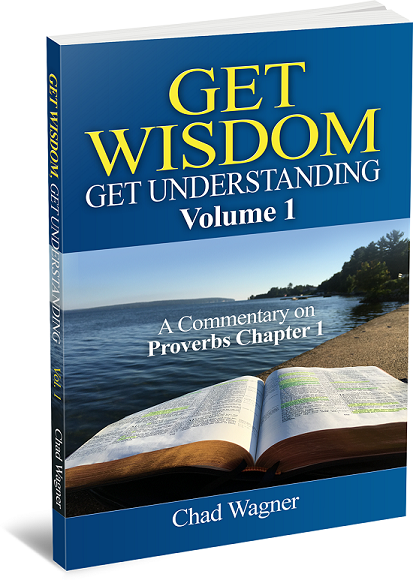 If you like this blog, then you will like
Get Wisdom, Get Understanding
which is Pastor Wagner's commentary on Proverbs chapter 1 which is available on Amazon in paperback or Kindle. Find out more
here
. For all the blogs in this series, click here:
Proverbs Commentary
.
Proverbs 1:27
"When your fear cometh as desolation, and your destruction cometh as a whirlwind; when distress and anguish cometh upon you." (Pro 1:27)
---
The LORD here elaborates on the
calamity
(Pro 1:26) that will surely befall the foolish who despise His reproof. Having promised to "mock when your fear cometh" in the previous verse, the LORD then reinforces His pronouncement of judgment by expounding on the fear which would come upon them "as desolation."
Fear
is "the emotion of pain or uneasiness caused by the sense of impending danger, or by the prospect of some possible evil" (OED). Fear is debilitating and "hath torment" (1Jo 4:18). Lions use the paralyzing effect of fear when they creep up on their prey and roar causing their victim to freeze up momentarily while they go in for the kill. Satan cunningly applies the principle of "go to the ant...and consider her ways" (Pro 6:6) by observing the opposite end of the animal kingdom and using fear to overcome his prey "as a roaring lion, [who] walketh about, seeking whom he may devour" (1Pe 5:8). Fools who reject God's counsel will be overcome and destroyed by fear, but such need not be the case with Christians, for "God hath not given us the spirit of fear; but of power, and of love, and of a sound mind" (2Ti 1:7). The antidote of
fear
is
faith
as the Psalmist noted:
Psa 56:3 - What time I am afraid, I will trust in thee. Psa 56:4 - In God I will praise his word, in God I have put my trust; I will not fear what flesh can do unto me.
To be effective against fear, the foundation of our faith must be laid upon the scriptures, for "faith cometh by hearing, and hearing by the word of God" (Rom 10:17). When a man is tempted to fear he must not
listen to himself
, but instead
talk to himself
by quoting a pertinent Bible verse and believing it. The scripture admonishes us that "there is no fear in love; but perfect love casteth out fear" (1Jo 4:18), and true love is shown by keeping God's commandments.
Joh 14:15 - If ye love me, keep my commandments.
Joh 14:21 - He that hath my commandments, and keepeth them, he it is that loveth me: and he that loveth me shall be loved of my Father, and I will love him, and will manifest myself to him.
Joh 15:10 - If ye keep my commandments, ye shall abide in my love; even as I have kept my Father's commandments, and abide in his love.
Joh 15:12 - This is my commandment, That ye love one another, as I have loved you.
1Jn 3:23 - And this is his commandment, That we should believe on the name of his Son Jesus Christ, and love one another, as he gave us commandment.
1Jn 4:21 - And this commandment have we from him, That he who loveth God love his brother also.
1Jn 5:2 - By this we know that we love the children of God, when we love God, and keep his commandments. 1Jn 5:3 - For this is the love of God, that we keep his commandments: and his commandments are not grievous.
2Jn 1:6 - And this is love, that we walk after his commandments. This is the commandment, That, as ye have heard from the beginning, ye should walk in it.
The keeping of God's commandments is an act of love toward both God and men which will cast out fear. This brings us back to wisdom's warning in the first chapter of Proverbs. Those who refuse the reproof of God's words and reject His commandments have not the love of God in them which casts out fear. Rather than trusting in the LORD, they defy Him; and the consequence of that defiance is
fear
: and not just any fear, but fear that cometh as
desolation
(Pro 1:27).
Desolation
is "the action of laying waste a land, etc., destroying its people, crops, and buildings, and making it unfit for habitation; utter devastation" (OED). The fear that will come upon foolish men who disregard and mock God's warnings will cause them utter destruction and devastation. Their destruction will come
as a whirlwind
(a tornado). The crippling fear that awaits the foolish has the same destructive effect as a tornado that ravishes a man's house and brings him to nought. This tornadic fear, which the LORD promises will come upon rebels, will cause them
distress
(
sore pressure or strain of adversity, trouble, sickness, pain, or sorrow; anguish or affliction affecting the body, spirit, or community
- OED) and
anguish
(
excruciating or oppressive bodily pain or suffering, such as the sufferer writhes under
- OED). This description of the fear, desolation, destruction, distress, and anguish that comes upon those who ignore God's word should make every man that fears God stop dead in his tracks, repent, and reverse course, but fools will disregard and suffer for it: "A wise man feareth, and departeth from evil: but the fool rageth, and is confident" (Pro 14:16). They will eventually call upon Him, but not until it's too late as the next verse shows.
---
Subscribe to Pastor Wagner's Blog
---