Two Everythings (Part 08) - Two Comings to God (Eternal/Passive and Temporal/Active)
Submitted by Pastor Chad Wagner on Wednesday, August 31, 2016.
For a paperback book in outline form which addresses over 150 difficult verses that Arminians use against Sovereign Grace, check out: Problem Texts for Sovereign Grace: Rooting Arminianism Out of Every Verse.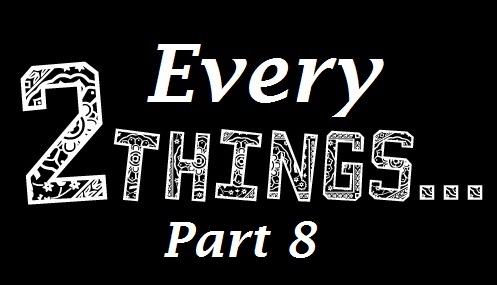 Image from: www.patheos.com
For a master copy of the outline, click here: Two Everythings
To listen to the previous sermon in the series, click here: Part 7
To listen to the next sermon in the series, click here: Part 9
To Listen on YouTube, click here: Two Everythings (Part 8) - Two Comings to God (Eternal/Passive and Temporal/Active)
10. Two comings to God A. Eternal and passive coming to God i. All of the elect come to God eternally by the sovereign act of God, in which they are passive. 1. Joh 6:44 - No man can come to me, except the Father which hath sent me draw him: and I will raise him up at the last day. 2. Jer 31:3 - The LORD hath appeared of old unto me, saying, Yea, I have loved thee with an everlasting love: therefore with lovingkindness have I drawn thee. a. Draw v. - 1. a. trans. To cause (anything) to move toward oneself by the application of force; to pull. b. Drawing is pulling with force, not coaxing. c. Job 41:1 - Canst thou draw out leviathan with an hook? or his tongue with a cord which thou lettest down? ii. God causes His elect to approach unto him when He regenerates them, giving them eternal life. 1. Psa 65:4 - Blessed is the man whom thou choosest, and causest to approach unto thee, that he may dwell in thy courts: we shall be satisfied with the goodness of thy house, even of thy holy temple. 2. Tit 3:5 - Not by works of righteousness which we have done, but according to his mercy he saved us, by the washing of regeneration, and renewing of the Holy Ghost; 3. Tit 3:6 - Which he shed on us abundantly through Jesus Christ our Saviour; 4. Tit 3:7 - That being justified by his grace, we should be made heirs according to the hope of eternal life. iii. All of the elect will come unto God in this way. 1. Joh 6:37 - All that the Father giveth me shall come to me; and him that cometh to me I will in no wise cast out. B. Temporal and active coming to God i. Once the elect are regenerated, they are commanded to come to God in faith and worship him. 1. Heb 11:6 - But without faith it is impossible to please him: for he that cometh to God must believe that he is, and that he is a rewarder of them that diligently seek him. 2. Psa 95:6 - O come, let us worship and bow down: let us kneel before the LORD our maker. ii. We are told to draw near to God. 1. Heb 10:22 - Let us draw near with a true heart in full assurance of faith, having our hearts sprinkled from an evil conscience, and our bodies washed with pure water. 2. Jas 4:8 - Draw nigh to God, and he will draw nigh to you. Cleanse your hands, ye sinners; and purify your hearts, ye double minded. iii. Jesus invites His sheep to come unto Him and find rest. 1. Mat 11:28 - Come unto me, all ye that labour and are heavy laden, and I will give you rest. 2. Mat 11:29 - Take my yoke upon you, and learn of me; for I am meek and lowly in heart: and ye shall find rest unto your souls. 3. Mat 11:30 - For my yoke is easy, and my burden is light.
---