Two Everythings (Part 01) - Two Salvations (Eternal and Temporal)
Submitted by Pastor Chad Wagner on Wednesday, June 15, 2016.
For a paperback book in outline form which addresses over 150 difficult verses that Arminians use against Sovereign Grace, check out: Problem Texts for Sovereign Grace: Rooting Arminianism Out of Every Verse.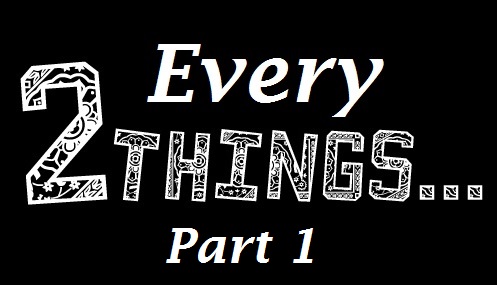 Image from: www.patheos.com
For a master copy of the outline, click here: Two Everythings
To listen to the next sermon in the series, click here: Part 2
To Listen on YouTube, click here: Two Everythings (Part 1) - Two Salvations (Eternal and Temporal)
Two Everythings 1. There are two aspects to many concepts in the Bible: an eternal and a temporal, a spiritual and a natural, or an effectual and an evidential. These include: A. Two salvations B. Two justifications C. Two forgivenesses D. Two reconciliations E. Two sanctifications F. Two purifications G. Two callings H. Two comings to God I. Two knowings of God J. Two receivings of the Spirit K. Two damnations L. Two perishings M. Two deaths N. Two resurrections O. Two Israels 2. The Bible must be rightly divided. A. 2Ti 2:15 - Study to shew thyself approved unto God, a workman that needeth not to be ashamed, rightly dividing the word of truth. B. If one only thinks that there are only one of all these things spoken of in the Bible, he will have a book full of contradictions. 3. Two salvations A. There is a salvation which is eternal and unconditional. i. This salvation is a completed accomplishment: he hath saved us. 1. 2Ti 1:9 - Who hath saved us, and called us with an holy calling, not according to our works, but according to his own purpose and grace, which was given us in Christ Jesus before the world began, ii. This salvation is unconditional: not according to our works or will. 1. Tit 3:5 - Not by works of righteousness which we have done, but according to his mercy he saved us, by the washing of regeneration, and renewing of the Holy Ghost; 2. Rom 9:11 - (For the children being not yet born, neither having done any good or evil, that the purpose of God according to election might stand, not of works, but of him that calleth;) 3. Rom 9:16 - So then it is not of him that willeth, nor of him that runneth, but of God that sheweth mercy. iii. This eternal salvation was obtained and secured by Jesus Christ when He entered into the holy place; it was not just simply made available for acceptance. 1. Heb 9:12 - Neither by the blood of goats and calves, but by his own blood he entered in once into the holy place, having obtained eternal redemption for us. 2. This salvation was completed by Christ: he entered into the holy place having obtained eternal redemption for His people. 3. This salvation was eternal redemption. iv. Eternal salvation is not an offer - it's a completed work: God hath reconciled us to himself by Jesus Christ. 1. 2Co 5:18 - And all things are of God, who hath reconciled us to himself by Jesus Christ, and hath given to us the ministry of reconciliation; v. Eternal salvation cannot be lost. 1. Joh 10:28 - And I give unto them eternal life; and they shall never perish, neither shall any man pluck them out of my hand. B. There is also a salvation which is temporal and conditional. i. This includes salvation from ignorance and from trying to save oneself by one's own works. 1. Rom 10:9 - That if thou shalt confess with thy mouth the Lord Jesus, and shalt believe in thine heart that God hath raised him from the dead, thou shalt be saved. 2. Rom 10:1 - Brethren, my heart's desire and prayer to God for Israel is, that they might be saved. 3. Rom 10:2 - For I bear them record that they have a zeal of God, but not according to knowledge. 4. Rom 10:3 - For they being ignorant of God's righteousness, and going about to establish their own righteousness, have not submitted themselves unto the righteousness of God. 5. Rom 10:4 - For Christ is the end of the law for righteousness to every one that believeth. ii. This includes salvation from being deceived and lead away from the truth by false doctrine. 1. 1Ti 4:16 - Take heed unto thyself, and unto the doctrine; continue in them: for in doing this thou shalt both save thyself, and them that hear thee. iii. This includes salvation from physically dying. 1. Act 27:31 - Paul said to the centurion and to the soldiers, Except these abide in the ship, ye cannot be saved. iv. All these salvations have one things in common: they're all conditioned on something a person does, whether belief or other works. v. The way to rightly divide the word of truth when it comes to verses talking about salvation is to see whether the salvation is conditional; and if it is, one can know that it is referring to temporal salvation, not eternal salvation. vi. Also, if the verse specifies that the salvation is eternal or that God was the doer of it, then one can conclude that the verse speaking of eternal salvation.
---