Blog - Proverbs 2:12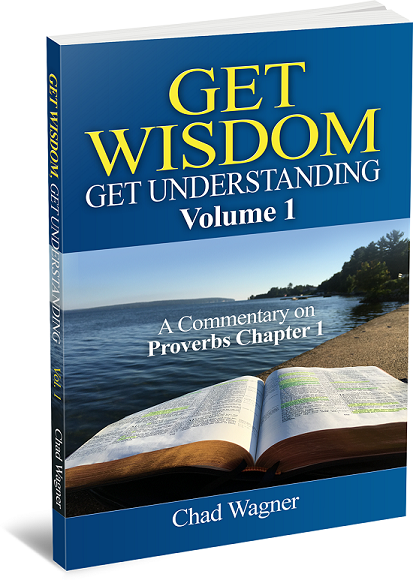 If you like this blog, then you will like
Get Wisdom, Get Understanding
which is Pastor Wagner's commentary on Proverbs chapter 1 which is available on Amazon in paperback or Kindle. Find out more
here
. For all the blogs in this series, click here:
Proverbs Commentary
.
Proverbs 2:12
"To deliver thee from the way of the evil man, from the man that speaketh froward things;" (Pro 2:12)
---
Having stated that one of the benefits of the possession of wisdom is its preserving influence (Pro 2:10-11), Solomon now proceeds to give a specific example of such.
To deliver thee from the way of the evil man
. The acquisition of wisdom and knowledge brings discretion and understanding (Pro 2:10-11) which in turn will
deliver
the possessor from the way of the evil man. To
deliver
is to "set free, liberate, release, rescue, save" (OED).
Deliver
is therefore a synonym of
save
; thus wisdom and discretion will
save
an obedient Christian from the manner of the wicked. The Bible defines
deliverance
as
salvation
by comparing the following verses.
Act 2:21 - And it shall come to pass, that whosoever shall call on the name of the Lord shall be saved.
Joe 2:32 - And it shall come to pass, that whosoever shall call on the name of the LORD shall be delivered: for in mount Zion and in Jerusalem shall be deliverance, as the LORD hath said, and in the remnant whom the LORD shall call.
The salvation under consideration in Proverbs 2:12 is deliverance "from the way of the evil man, from the man that speaketh froward things," not deliverance from going to hell. Therefore, this salvation is of a temporal nature, not an eternal one.
Temporal
is "of or pertaining to time as the sphere of human life; terrestrial as opposed to heavenly; of man's present life as distinguished from a future existence; concerning or involving merely the material interests of this world; worldly, earthly; (opp. to
eternal
or
spiritual
)" (OED). Thus, this type of salvation in the scripture can be referred to as
temporal salvation
. Given the fact that there are
multiple salvations
spoken of in the scriptures, as the psalmist noted: "Thou art my King, O God: command
deliverances
for Jacob" (Psa 44:4), and that the Bible speaks of a salvation that is not eternal in nature, it is therefore a poor hermeneutical method to interpret every verse of scripture containing the word
saved
or
salvation
as referring to
eternal
salvation. To do so will make for an absurd and self-contradicting soteriology, such as would be the case in the following verses.
1Ti 2:15 - Notwithstanding she shall be saved in childbearing, if they continue in faith and charity and holiness with sobriety.
Act 27:31 - Paul said to the centurion and to the soldiers, Except these abide in the ship, ye cannot be saved.
It is ridiculous to any sensible Christian with even the most basic understanding of the Bible to conclude that one must be a seafaring pregnant woman to end up in heaven. Clearly the above verses which condition salvation on something a person must do are
not
referring to
eternal
salvation. Sensible Christians should apply this same principle to other verses in the Bible which state that a man must do something to be saved, and compare scripture with scripture, carefully observing the context to determine what the man is said to be saved from, remembering that eternal salvation is "not according to our works" (2Ti 1:9), "not by works of righteousness" (Tit 3:5), and "not of him that willeth, nor of him that runneth, but of God that sheweth mercy" (Rom 9:16). The following verses would be a good place to start doing so.
Act 16:30-31 - And brought them out, and said, Sirs, what must I do to be saved? 31 And they said, Believe on the Lord Jesus Christ, and thou shalt be saved, and thy house.
Rom 10:9 That if thou shalt confess with thy mouth the Lord Jesus, and shalt believe in thine heart that God hath raised him from the dead, thou shalt be saved.
Rom 10:13 For whosoever shall call upon the name of the Lord shall be saved.
These verses are not teaching that eternal salvation is conditioned upon belief, confession, or calling any more than the previous ones were teaching that it is based on bearing children or staying in a ship, because eternal salvation is by grace, not of works (something a man does). A Biblical interpretation of these verses, and many more, are found in the author's book,
Problem Texts for Sovereign Grace: Rooting Arminianism Out of Every Verse
. Returning to the matter at hand, the man who seeks and finds wisdom is promised to be saved from
the way of the evil man, from the man that speaketh froward things
. An
evil
man is a man which is "morally depraved, bad, wicked, vicious" (OED). Christians would do well to pray to be delivered from such men, as did David and Paul in accord with Jesus' instruction.
Psa 140:1 - Deliver me, O LORD, from the evil man: preserve me from the violent man;
2Th 3:1-2 - Finally, brethren, pray for us, that the word of the Lord may have free course, and be glorified, even as it is with you: 2 And that we may be delivered from unreasonable and wicked men: for all men have not faith.
Mat 6:13 - And lead us not into temptation, but deliver us from evil: For thine is the kingdom, and the power, and the glory, for ever. Amen.
An evil man "seeketh only rebellion" (Pro 17:11), and in his transgression "there is a snare" (Pro 29:6) which will catch the unsuspecting. A Christian must stay far from such a man to avoid the judgment that will befall him when "a cruel messenger shall be sent against him" (Pro 17:11), and his "candle . . . shall be put out" (Pro 24:20). Evil men are not always easily recognized as such, so Solomon here gives one of their defining characteristics: they speak froward things.
Froward
things are things which are "adverse, unfavourable, untoward; difficult to deal with, refractory; perverse, ill-humoured" (OED). Jesus taught that the wicked heart of an evil man will be made manifest by what comes out of his mouth.
Luk 6:45 - A good man out of the good treasure of his heart bringeth forth that which is good; and an evil man out of the evil treasure of his heart bringeth forth that which is evil: for of the abundance of the heart his mouth speaketh.
Pay close attention to a man's words, and he will tell you who he is; and when he does, believe him -- and then avoid him.
Pro 4:14 - Enter not into the path of the wicked, and go not in the way of evil men.
---
Subscribe to Pastor Wagner's Blog
---