Blog - Proverbs 1:23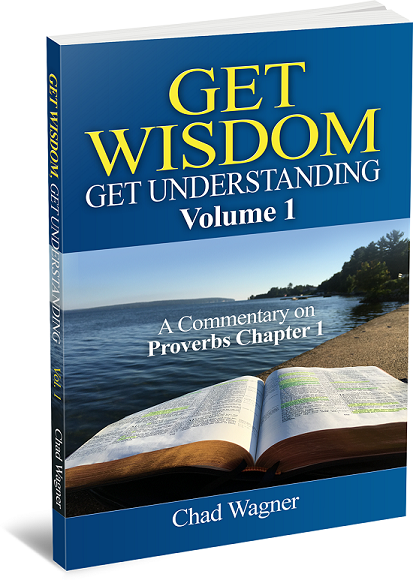 If you like this blog, then you will like
Get Wisdom, Get Understanding
which is Pastor Wagner's commentary on Proverbs chapter 1 which is available on Amazon in paperback or Kindle. Find out more
here
. For all the blogs in this series, click here:
Proverbs Commentary
.
Proverbs 1:23
"Turn you at my reproof: behold, I will pour out my spirit unto you, I will make known my words unto you." (Pro 1:23)
---
Wisdom now gives the antidote to the chronic and terminal condition of the love of simplicity, scorning, and ignorance:
turning
from foolishness. As was before noted, the fools to whom wisdom cries are headed for destruction. Just as a car driving toward a cliff, their only option to spare themselves devastation is to
turn
which is "to alter the course of; to cause to go another way; to divert, deflect" (OED). These have indulged in their folly for a
long
while (Pro 1:22) and are ever drawing closer to the precipice, and the longer they wait, the sharper the turn will have to be for disaster to be averted. Hence the reason the scripture warns us to "exhort one another daily, while it is called
To day
; lest any of you be hardened through the deceitfulness of sin" (Heb 3:13). More than once the Lord admonishes us of the urgent need to turn from our sins now, saying "
To day
if ye will hear his voice, harden not your hearts" (Heb 3:7-8,15; Heb 4:7). For the foolish man wallowing in his ignorance, "
now
is the accepted time; behold,
now
is the day of salvation" (2Co 6:2). God gives a space of repentance as He did for that wicked woman Jezebel in the church of Thyatira which called herself a prophetess (Rev 2:20-21), but when the space is exceeded tribulation follows (Rev 2:22-23). As it was with the Amorites of old whose judgment God postponed because their "iniquity...[was] not yet full" (Gen 15:16), so it is with all men: God has a cup in which He measures their sin; and when it is full, judgment comes with a vengeance. None of us know how full our cup is, so we better do as the Psalmist who "made haste, and delayed not to keep thy commandments" (Psa 119:60).
Turning
is a synonym of
repentance
and
conversion
. To
convert
is "
to turn in mind, feeling, or conduct
; to bring into another state" (OED). To
repent
is "to feel contrition, compunction, sorrow or regret for something one has done or left undone;
to change one's mind with regard to past action or conduct
through dissatisfaction with it or its results" (OED). Therefore, the call of wisdom to "
turn
" is the selfsame call of the gospel to "
repent
and
turn
to God, and do works meet for repentance" (Act 26:20). Wisdom's message doesn't stop with a call to repentance; attached to it is also a promise to the penitent:
I will pour out my spirit unto you, I will make known my words unto you
. Herein the Lord reveals how a man knows that he has been filled with God's Spirit:
when God's words are made known unto him
. The Spirit of God (the Holy Ghost) teaches God's word by "comparing spiritual things with spiritual" (1Co 2:13). Interestingly, when we do so and compare parallel verses in Paul's letters to the Ephesians and Colossians, we find that being filled with the Spirit is letting the word of Christ dwell in us richly.
Eph 5:18 - And be not drunk with wine, wherein is excess; but be filled with the Spirit; Eph 5:19 - Speaking to yourselves in psalms and hymns and spiritual songs, singing and making melody in your heart to the Lord;
Col 3:16 - Let the word of Christ dwell in you richly in all wisdom; teaching and admonishing one another in psalms and hymns and spiritual songs, singing with grace in your hearts to the Lord.
When a wayward sinner hearkens to wisdom's cry and
turns
at her reproof, he will begin to be filled with God's Spirit and to understand the word of God. When that man does God's will to the extent that he knows it, the Lord will make him to understand His doctrine, as Jesus said, "if any man will do his will, he shall know of the doctrine, whether it be of God, or whether I speak of myself" (Joh 7:17). The more of God's will he does, the more of it he will know, and on the process goes. The further he walks by faith, the further the light of the word of God shines in front of him to illuminate his path until he finally arrives at his long home: "the path of the just is as the shining light, that shineth more and more unto the perfect day" (Pro 4:18).
---
Subscribe to Pastor Wagner's Blog
---