Watch this video here:
Answers to So-called Arminian Verses - Rev 3:20
Check out the other video blogs here: Pastor's Video Blog
For the other video blogs in this series and the outline, click here: Answers to So-called Arminian Verses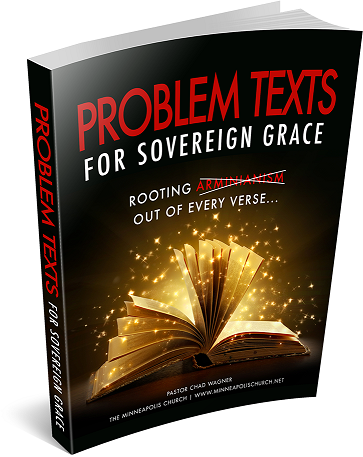 For a paperback book in outline form which addresses over 150 difficult verses that Arminians use against Sovereign Grace, check out: Problem Texts for Sovereign Grace: Rooting Arminianism Out of Every Verse.
Answers to So-called Arminian Verses
7. Rev 3:20 - "Behold, I stand at the door, and knock: if any man hear my voice, and open the door, I will come in to him, and will sup with him, and he with me."
A. Is Rev 3:20 teaching that Jesus is knocking on the door of every unregenerate sinner's heart and begging him to open up to Him so that he can give him eternal life?
B. In Rev 3:20, Jesus was speaking to the church at Laodicea, not unregenerate sinners (Rev 3:14).
i. The church of Laodicea was one of the seven churches in Asia to whom the book of Revelation was written (Rev 1:4).
ii. The members of those churches were loved by Jesus Christ and washed from their sins in His blood (Rev 1:5; Rev 3:19).
iii. Rev 1:4-5 - "John to the seven churches which are in Asia...Unto him that loved us, and washed us from our sins in his own blood,"
iv. Those who are washed from their sins by the blood of Christ are elect and predestinated children of God (Eph 1:4-7; 1Pe 1:2).
v. Those who are loved by God and washed in the blood of Christ have eternal forgiveness and eternal life (Rom 5:8-11; Heb 9:12; Col 1:20-22; Col 2:13).
vi. Therefore, the Christians in the church of Laodicea to whom Jesus was speaking were elect, regenerate, blood-bought, children of God.
vii. Nothing could separate them from the love of God in Jesus Christ (Rom 8:38-39) and they could never lose their eternal life (Joh 10:28).
C. The church in Laodicea had become lukewarm and affluent and thought that they were rich and needed nothing, not realizing that they were wretched, miserable, poor, blind, and naked (Rev 3:15-17).
i. Jesus was rebuking them and exhorting them to repent (Rev 3:18-19), lest He would spew them out of His mouth (Rev 3:16), and they would cease to be one of His churches (Rev 1:20 c/w Rev 2:5).
ii. If they would hear Jesus' rebuke and repent, they could come back into fellowship with Him (Rev 3:20; Joh 14:23) and be spared punishment.
iii. They were as the prodigal son who was still a son, but needed to repent to enjoy the fellowship with his father (Luk 15:24).
iv. They were Jesus' sheep for whom He died (Joh 10:15) and to whom He gave eternal life (Joh 10:27-28), and Jesus as the Good Shepherd was seeking for His lost sheep which had gone astray to protect them from danger (Luk 15:4-7 c/w Joh 10:11-15).
D. Using Rev 3:20, as so many do, to try to prove that Jesus is knocking on the heart of the unregenerate and begging them to accept Him is a gross wresting of the scriptures by the unlearned and unstable (2Pe 3:16).
---